Wednesday March 6th 2013, Lima Peru, Hotel Senorial
Tuesday was a leisurely start for the short ride into Lima. We immediately were back in the mountainous desert. On the way into Lima we rode past this encampment that we learned was basically a squatters camp on some ex-military property. 
It was a great road into the city. 
Before we knew it we were getting into famous Lima traffic. 
We managed to find the hotel on after about an hour of crazy riding through thick traffic with only a minimum of diversion (getting lost). At one point we saw what looked like a freeway going our direction and eagerly took the on ramp to get out of the gridlock. Somehow we missed the sign that motorcycles were not allowed on this road. We wondered why the cab drivers were all frantically waving at us. Eventually we came upon a traffic cop directing traffic who forcefully waved to us signally us to pull over. We have a rule…. we don't stop for cops unless we see a gun…. so we kept going. Dave even waved back. I think we might now be wanted by the Lima police for evading arrest.
Shortly after checking into the hotel, we were met by Ivan Guerrero who owns the local Touratech franchise. Dave knew him through a connection and made arrangements for him to assist us getting tires on four of the bikes. Check his shop out on Facebook HERE. Ivan was over the top with his help coordinating new tires including letting us follow him through the crazy streets of Lima to the shop. If you are ever adventure riding in Lima be sure to look him up.
One of the things we needed to do was get a dent fixed in David's rim, Ivan to the rescue. He made arrangements with a local wheel shop to repair the bend. Ivan drove us  to the shop which was behind a door in an unmarked blue wall. 
No problem, it can be fixed…. come on in!
Back at the hotel the group got together for some drinks and riding stories, Ivan is on the left. We were joined by his motorcycle-riding friend Ignacio (Nacho) who had a Mercy Corps connection with Dave. Thanks to them they strongly recommended we take the southern route into Cuzco because of heavy rain and muddy roads in the mountains.
—————————————————————————————–
Wednesday Deby and I signed up for a double decker bus tour on the Turibus !El Bus de Lima! on Ivan's recommendation. The most amazing thing was a stop at the convent of San Francisco and it's Catacombs. Take a minute to check out the Wikipedia link, pretty amazing.
Under the church are the catacombs where it is estimated 70,000 people were buried. The bones were dismantled and arranged in "bins" in geometric formations. We weren't allowed to take pictures so here are a few I found online.
A well with skulls and bones.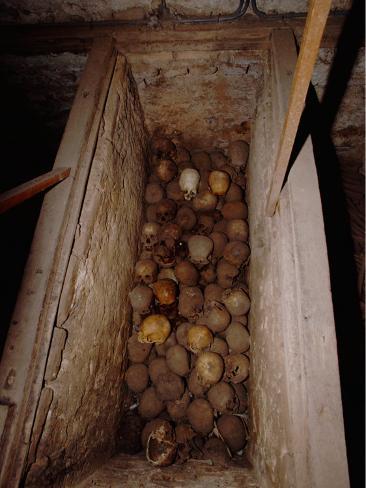 It was pretty creepy ducking through the dark catacombs under the church with stale air and low ceilings and then seeing row after row after row of bones organized in patterns.
In a previous blog comment, my friend Sal asked, "when was the last time you did something for the first time?". That was yet another first for me!
Somebody from the bus took a picture of us. 
More ancient ruins in the heart of Lima.
I'm not sure how this bus maneuvered the traffic but the driver managed. 
We happened to be at the capitol for the changing of the guard. 
One last picture for today…. having fun. 
Tomorrow Deby and I are leaving the group to get a jump on the ride to Cuzco where we are meeting Michael and his fiance' Dee Dee. The four of us have an appointment with a guide for a 3 day hike up Machu Picchu Dave, Keith and Jim will linger a little longer in Lima and meet us in Cuzco on the 15th.
New tires and ready to roll!
Donn and Deby 🙂 🙂