Wow, thanks for all the comments here and on Deby's Facebook page. I hope this is an adventure worthy of everyone's time. You just never know….
So, what's the plan? Well, like most things it started out simple and became more complex. That's OK, I'll start at the beginning.
Because of Michael's "win" of a free tour we are going with an outfit called Ride Adventures – Tours and Rentals. They specialize in adventure motorcycle tours around the world taking people on grand adventures in amazing places. But…. they have one, select, very special tour in the United States. Guess where???? WISCONSIN! What? Most of you probably know Deby and I grew up in Wisconsin where we met and moved to Seattle after college. We learned Eric Lange, the founder of Ride Adventures is also from Wisconsin, small world.
Michael's free tour was one of the more basic self guided Patagonia tours they offer so Michael decided it would be worthwhile to pay for an upgrade to what they call "The Patagonia Experience", a 14 day motorcycle tour.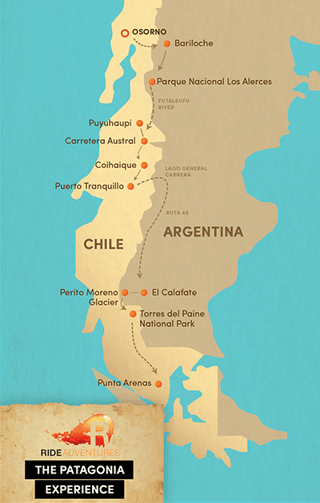 Deby and I have been to some of these places and so has Michael on our first Motoraid trip in 2013, we are really excited to go back and further explore the area. But there is more…. besides me and Deby, Michael invited his friend Chris. We've met Chris a few times and rode together on enough trips that I can say he will be a fun riding partner. He is a very interesting person, Michael calls him Dr. Science because of his technical background prior to retiring from Boeing.
Dr. Chris Science has a full blown race car simulator that he hand built in his basement. Michael and I went to check it out this past spring and it is amazing!!
Chris can describe it in more detail but all I know is that it's really realistic and I could never make it as a race car driver. Chris is pretty good at it.
OK, that sounds like a reasonable plan, two weeks on a prescribed tour complete with reservations at really nice hotels along the way. Then I get a call….. it's Michael. "Hey Donn, what do you say we fly down a little early and just rent some bikes?" Ummm, sure! So now we are flying down 10 days before the "official" tour begins and Michael's wife Dee Dee is coming with us on the back of Michael's bike for this part of the trip. This will be fun. We first met Dee Dee when she flew to Cusco, Peru in 2013 to meet us on our first South America trip. We took nearly a week and explored the area and did the 4 day hike to Machu Picchu. We've all been good friends ever since.
"Oh Donn…," Michael says, "since you've been there before could you plan our route?" Well, I suppose that makes sense in a way.. So, I made a rough plan.
I have this mostly (sort of) planned out, at least the first few days. We leave Seattle on January 16 and arrive in Santiago, Chile on Wednesday the 17th. From there we take a small plane to Temuco and then a shuttle to Pucon, Chile where we pick up the motorcycles.
Coincidence #1: We randomly sign up with a company founded by a guy from my home town in Wisconsin.
Cocindence #2: Ride Adventures tour company's South America base is in Pucon Chile. Pucon is the city that became the sister city of Lake Oswego Oregon in the early 60's and for that reason became the destination of the 1963 Motoraid trip by Keith Thye and David Yaden. When we re-created that trip its 50th anniversary with Keith and Dave, Pucon was our ultimate destination. What does that mean????
From Pucon, the trip with Dee Dee will take us to Valdivia, Puerto Varas and then points south on the famed Carretera Austrel. At some point we will cross the Andes and ride north to San Carlos de Bariloche, San Martin de los Andes and then a new route north before cutting east over the Andes and back down to Pucon. What could go wrong?
For those of you who want to know, and I know who you are…, Michael and I are both renting the Honda Africa Twin 1000cc, Deby will be on a Honda 500x and Chris (I think) is on a BMW F700GS. These are all pretty reliable motorcycles but for the most part we will be responsible for breakdowns. I'm packing my own tool kit.
I'll try to get another post out before we leave with our preparations. Thanks for the notes and for following along.
Donn and Deby