I'm not really sure where Patagonia starts but for the next few days we would be riding towards the top of my Patagonia map, so I'm calling it Northern Patagonia. Here is a map of the whole route with Dee Dee.
North of San Martin the countryside is a little less traveled and more remote. Almost as soon as we left town the road turned to gravel with some deep and loose sections.
We were heading to a section of Argentina and Chile we had never been to before called Araucania home of the famous Araucania or as we say Monkey Puzzle Tree. This is a strange shaped tree that is so slow growing that they get really old and are described as living fossils. Click HERE for the Wikipedia page about these amazing trees. Here is a picture.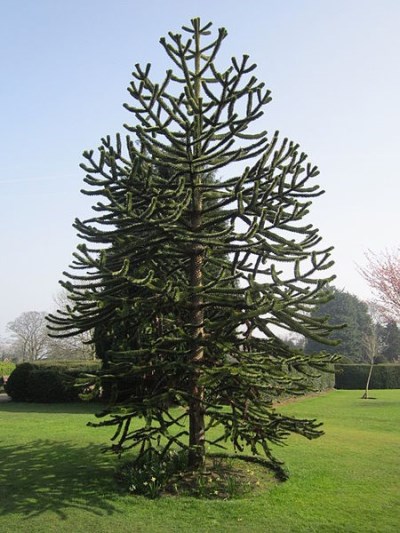 There are some of these trees in the Pacific Northwest, my own sister has a fantastic one in her yard. Here are a few along the road.
And then we came to huge forests of these trees.
Overall, a fine day of riding although a bit dusty but we were now away from the traffic and tourists of the main routes.
Around mid-day we started looking for something to eat without much luck. I still had a few pastries in my pannier but after three days of cooking in heat we thought the best thing to do was to throw them away. Not finding a restaurant we decided on the next best thing – Ice Cream!
It was hot so we had to eat it fast but who cares.
We didn't really have a destination for the day other than to cross the border back into Chile where we would make our way back to Pucon. Here is a picture of the bikes at the border.
These are easy crossings, we park the bikes and go inside with our paper work going from window to window collecting stamps in our passports and paperwork for the motorcycles. Generally, everyone is really polite and helpful, way different from many of the other borders we encountered further north.
Once back in Chile we were riding towards the steaming Lonquimay Volcano Click on the link to read about it on Wikipedia. Not sure where to stay and without cell service I pulled over to the side of the road to confer with Michael and Dee Dee. Just when I stopped I looked up and there was a giant billboard for the Corralco Resort and Spa, definitely a classy space. I didn't even get off my bike but turned around and pointed to the billboard. Deby was saying yes in my helmet, Michael just stared at me through his helmet, I could read his mind but it didn't matter. Dee Dee was almost jumping up and down on the back of the bike, waving her hands with big thumbs up. Ok, that settles it and off we went 10Km down a dirt road towards the resort.
I always wonder what people think when we pull into a nice resort in our filthy riding gear and stop in their nice lobbies with our big boots with caked on dirt. Oh well. We didn't get run off from the lobby but they could only find two rooms and they each had two single beds. Ok, could be worse so we booked it, unloaded, changed and were sitting outside looking at the volcano within minutes.
Not much else to say, we were tired after a long day's ride and this place was super relaxing.
Sunday January 27, 2019
The last day of riding with Dee Dee. Here is a map of our actual GPS track for the day.
We rode from the top of the map south to Pucon. We (actually I) decided we should ride 5Km up a gravel road towards the volcano and visit a place called Crater Navidad. It is the little in and out spike on the top of the map circled in red. The road started on smooth volcanic sand up the side of the mountain.
But soon turned into really loose volcanic sand that was grabbing the front tires on our loaded down bikes. It was tricky but I got to the crater and decided not to continue any further.
I turned around and saw Michael stopped on the side of the road. They got caught in some sand and had a slow speed tilt over. Nothing bad but his pannier popped off. I started stopping to help and when I pulled over my front wheel got stuck in the deep sand at the side of the road and just slid out from under me. It was a classic slow speed tip over. Very slow in the sand… I'mmmm goooing dowwwwwwn. thump. My forward motion was less than walking speed so the tip over only hurt my pride and nothing else. Michael helped me pick up the loaded Honda and soon we were down the mountain and back on the pavement riding West.
We needed to be back in Pucon by 5:00 to meet Chris (Dr. Science) who was flying in from Seattle. If you look at the map you might notice there is a main road that goes west and then connects to a highway south to Pucon. You might also notice that is not the route we took. We decided to take a "shortcut" through Parque Nacional Conguillo. Partway down the road going south we came to the proverbial fork in the road. Looking at our paper maps, the big map on the road sign and my GPS we decided to take what looked like an even shorter shortcut although a much smaller road. Yes, the road was definitely less traveled. Eventually the road became less and less traveled, skinnier and skinnier and steeper and steeper until finally it disintegrated into some steep uphill ruts. Michael was in the lead and came to a complete stop. I was behind him and no discussion was needed, we were going back.
Time was running sort as we backtracked to the main road that in itself was challenging in spots and has sections of construction and loose gravel. After some miles we came to the entrance to the park. It was on a steep gravel road and manned by a guard. There was an entrance fee of about $10.00. We asked about the road conditions in the park and was told the road we were on was "typical." Michael seriously debated going back to the paved road to the highway. Deby and I decided we would continue and meet back in Pucon. That tipped the decision scale for Michael and Dee Dee because soon we were entering the park.
I didn't take too many pictures because the road was tricky with very narrow sections and plenty of oncoming traffic that we would need to stop for.
We did stop at a beautiful viewpoint along a lake.
That's where I took this picture of Deby – yes, she gets the Dirty Face Award for the day.
After what seemed like a few hours we came out of the tight part of the park and crossed this huge expanse of a lava flow. We rode on this for probably 10 miles, it was huge.
Finally we came to the end of the park.
It was still over an hour to Pucon but we arrived just after 5:00. Chris' flight was delayed so we had plenty of time to meet his shuttle at our Pucon Airbnb.
So… in the next installment we exchange Dee Dee for Chris who will be riding a Honda 500X like the one Deby is on. Michael trades his Africa Twin for a nice new BMW F700GS and we embark on the second half of the journey that will take us much further south into much more remote places and tougher roads.
More to come as the internet allows. Thanks for following.
Donn and Deby