In May the weather starts getting better in the Pacific Northwest and of course our thoughts turned to riding. Washington and Oregon were still sorting out what virus restrictions should and should not be in place so after some research we determined we could probably manage a few days riding in Oregon and Washington. I've always been interested in the Scenic Byways that many states have now designated so when we came across the Journey Through Time Scenic Byway in Oregon we thought we would check it out.
The following excerpt is from the official Oregon Travel website. Click HERE for more.
The marks of time are stamped across the landscape on this 286-mile/460-kilometer route through prehistoric fossil beds, mining boomtowns and surprising sights like the Painted Hills.

Driving across northeastern Oregon is a trip through the state's historical timeline. This route begins at the Columbia River, the traditional fishing and gathering grounds for generations of Native Americans. It travels through river canyons and into the John Day Fossil Beds National Monument, where 55 million years of life are preserved in the rocks. And it explores communities past and present that tell stories of the state's hardworking heritage in the woods, in the mines, on the ranches and on the railroad.
Ok, prehistoric fossil beds, boomtowns and Painted Hills? We were in!
The starting point of the byway is along the Oregon, Washington border about midway across the state. We decided to let the weather warm up a little and get a late start towards the town of Hood River which is known for high winds in the Columbia George and the windsurfing crowd it attracts. We booked a room in advance at the Westcliff Lodge, unsure what to expect when we arrived since we heard Oregon was more locked down than Washington. Yes, the hotel was open but there was no food service and most of the restaurants in town were closed. As it was getting dark we ventured out towards the center of town and saw a Mexican Restaurant with cars in the parking lot.
With masks donned we ventured inside and found out that it was the first day they were open for business in months, although at a reduced capacity. This was, in fact, the first restaurant we were inside since before we left for Mexico at the end of March. It seemed strange but we were glad we wouldn't have to eat gas station food for dinner again. I even took a picture.
We walked back to the lodge to call it a night. It almost seemed like we were the only guests however, in the morning there were a half dozen cars in the parking lot, but that was about it. Strange, especially since it was Memorial Day Weekend.
Friday morning we arose to sunshine and blue skies, perfect for riding. We managed some hot water from the office and mixed up some instant coffee that we always carry with us. We complimented that with an energy bar each and we were ready to ride.
We followed the route first south and then east on highway 218 to the John Day Fossil Beds.
We stopped at a small roadside pull off and went for a scramble up a rocky trail to look at the scenery and maybe find some fossils.
No fossils, but we had a nice hike. Probably one of the only downsides of exploring on motorcycles is that we need to do side-hikes in our heavy motorcycle boots and protective clothing. Nevertheless, we enjoyed our climb exploring the rock formations. We met a few other people on the trail and everyone kept their distances, stepping far off the path when we met. This was something new for us at the time, now it seems normal.
We booked a cabin in Sumpter, Oregon, a very small tourist town known for a huge gold dredge. The Delta-9 Cabins were right on the main street and advertised prominently that they were "420 friendly." We, seriously, had to check in at the Pot Dispensary next to the cabins. Wow, you gotta love the hippies in Oregon. As I'm writing this I went to their website and it states they are Permanently Closed.
Most of the town was pretty quiet and what should have been a busy tourist holiday weekend was very slow. We did manage to find Carol's Mad Dog Restaurant and Bar a short walk from our cabin. The restaurant was full and we found the last high top table in the bar where we could order burgers and beer. Nobody seemed too concerned about the virus in that place. We had a short chat with the bartender and he said the town was quiet but since he was the only restaurant open they were as busy as ever.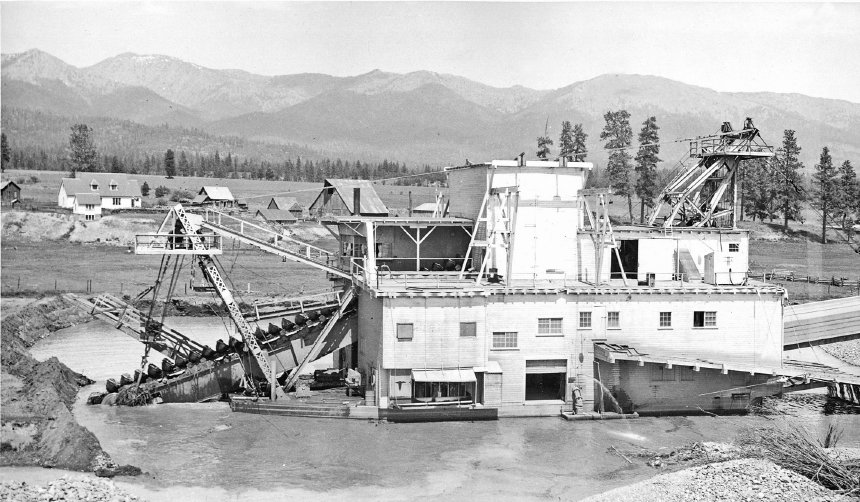 Deby and I had time to walk around the dredge. In better times it would be open for tours and the visitor center would be open. I think these gold dredges are amazing and a real engineering marvel except for all the environmental damage they caused. They literally dug up miles and miles of river bed searching for gold clawing their way across the state. You can read more about it HERE.
The Grand Canyon of Oregon
Somewhere in our research we came across "The Grand Canyon of Oregon." A quick search showed it wasn't far from us so we decided to give it a look.
Ok, technically it's The Owyhee Canyonlands and it was called The Grand Canyon of Oregon in a New York Times article. We found a nice dirt road runs through it and decided to give it a go, we weren't disappointed.
Came across this friendly guy wondering what we were doing on his road.
Further down the road we hit pavement but still hadn't seen another vehicle all day. We had to stop to avoid disturbing lunch time for these two.
Another nice day riding with virtually no traffic and good weather. I'm pretty sure we didn't interact with any human beings and had a huge social distance from the world. It wasn't bad.
Burns Oregon
Well, hmmm. I wouldn't call Burns, Oregon in itself a tourist destination. The small town (population 2800) seems to mostly support the surrounding ranches. We booked two nights at the Best Western on main street. We wanted to use Burns as a launching point to explore the area around the Malheur National Wildlife Refuge. An interesting side note, in 2016 the Refuge was the site of a takeover by "far-right extremists." You can read the Wikipedia account of the takeover HERE. When we were there, the town was quiet and the visitor center for the Refuge was closed.
It was Memorial Day but didn't seem like it at all. We rode 323 miles in and around the refuge and found some great unpaved back roads.
We rode an excellent dirt road to the Pete French Round Barn State Heritage Site.
Round barns were more common in the Midwest between 1880 and 1920 but this one is unusual in Oregon and was built in the mid 1880's. As a public space, we could walk inside to look around and we found a family of owls living in the rafters of the barn. We managed to get a few great pictures. I'm pretty sure these were Great Horned Owls.
We explored some more back roads before heading to "Diamond Craters Outstanding Natural Area." I love it that they include the word "outstanding" in the official title of the place.
From the website:
Diamond Craters, an Outstanding Natural Area of 17,000 acres (23 square miles), has some of the most diverse basaltic volcanic features in the nation clustered within a small, accessible area. The area displays an entire range of eruptions possible in basaltic volcanism. It was formed sometime in the past 25,000 years and now resembles a thin, rocky pancake with a few bumps. Features identifiable at the Outstanding Natural Area include craters and vents, cinder cones, spatter cones, lava tubes, driblet spires, a graben, and a water-filled maar.
Yes, we were on a roll and having a fun day. Next up was a visit to one of our favorite places, the Alvord Desert. The Alvord Desert is a 12 mile by 7 mile dry lake bed in SE Oregon. We have been there a few times before, but it's always fun to ride down onto the lakebed and rip around for a while. Similar to the more famous Bonneville Salt Flats, it's a large perfectly flat dry lake bed.
It's miles and miles of nothing, you can go as fast as you want. I made up a challenge to see how long we could ride with our eyes closed. Ten seconds is a LONG TIME at 60 mph. Scary, but not too dangerous since there is literally nothing to run into. I even tried it with no hands! We've been there in the past when a club of airplane "gliders" were using the field. We watched them being launched with big cables pulled by trucks. Another time we met some friends to camp on the lakebed and since it's so huge and you can't see all the way across, we had to locate their camper using GPS coordinates. There is really only a couple of entry points onto the desert and I learned from past experience to drop a pin on my GPS to mark the spot or it would be difficult to navigate back.
After having too much fun zooming around the lakebed we took the long and washboarded gravel road north to OR 78 and back to the luxury Best Western for the night.
With the holiday weekend over we decided it was time to head towards home. Looking for a slightly longer way home we rode north on 395 to Ukiah and then east on National Forest road 52 where we hoped to explore the northern part of the Elkhorn Scenic Byway on Forest Road 73 to Haines, OR.
I took this picture at a roadside stop. I supposed I should have read the little black box on the left, "Ask about road conditions past Granite." The GPS elevation was at 4,000 feet, then 5,000 feet and finally at 6,000 feet and still climbing we came to this.
We rode a little further but the road kept climbing and the ruts were getting narrower and it was getting late in the day. I knew from well earned experience where this was going to end up so we wisely turned around. The "go around" route took us back to Sumpter, home of the 420 cabins. We stopped for gas at the only station in town and recognized the attendant as the bartender from Carol's Mad Dog Restaurant a few nights before. We chatted for a while and he confirmed I made the wise decision to turn around stating the road probably wouldn't be open for another month.
We spent the night at a modern hotel in Baker City along I-84 and rode the super slab home the next day. 1934 miles total.
Six days of fun. Just what we needed for a short get-away almost halfway through the year of the Covid.
But what's next? Yes, there was an even bigger adventure in August on the "small bikes."
Thanks for the comments and for following.
Donn and Deby