At age 12 I saved my paper route money and along with my next door neighbor we scrounged, bought and borrowed enough parts to make a small mini-bike which we rode on the sidewalk often enough to get more than a few visits from the cops. Concerned I was turning into a delinquent biker my parents forced a sale of the mini-bike but I was hooked. Months later I had saved enough money to buy my first real motorcycle, a Sears Allstate 160 that had been stored in a neighbors garage. Even though I lived in an urban area we were fortunate to have a Nike Missile site nearby that was recently closed. There were roads and trails through the surrounding wooded area that offered a fun if not totally legal off-road place to ride. I had permission to own the motorcycle if I pushed it the 10 blocks to the riding area, which I seldom did.
Throughout high school I owned a number of motorcycles that started as basket cases that eventually I assembled and sold. They included two Honda 305 Superhawks, a couple of Honda 450 choppers, a Yamaha twin two stroke and an old Triumph. When I turned 16 I got a real job and saved enough money to buy a nearly new 1974 Norton 850 Commando. I toured with a band in the late 70's and the guitar player and I both had Norton Commandos that we would take with us during the summer months following the band truck around the US. I put 40,000 miles on the Norton and that is where I learned a lot about motorcycle mechanics. It was on that motorcycle that I had my first date with Deby, we were married in 1980.
I moved to Seattle in 1985 and the Norton came with us but was replaced as a daily rider with a more dependable Honda. Soon our two sons were old enough to develop an interest in motorcycles and we bought some dirt bikes and I got back into off road riding.
In 2003 I bought a Harley in homage to my hometown and rode it to Milwaukee with Deby on the back to celebrate Harley's 100th anniversary. During my Harley phase Deby and I rode 40,000 miles on multiple cross country trips. With the advent of the adventure riding craze I noticed an opportunity to combine my love of motorcycle travel and off road riding. Realizing that carrying a passenger on an adventure bike was not a good idea Deby got her endorsement in 2010 and learned to ride on a DR200 at Donn's off-road riding school. After a series of motorcycle trades which included two WR250s, a DRZ400, V-Strom, F800GS, KTM1190R, Africa Twin and Africa Twin Adventure Sports.  I finally have the what I think are the two best bikes for my type of riding, a KTM 500 EXC for the trails and a BMW R1250GSA for the longer trips.
Deby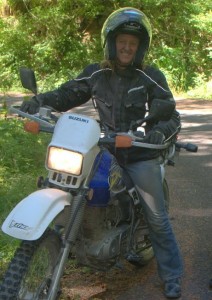 I got my first bike at age 52, a DR200 – I loved that bike.  In the first 6 months, I put 5,000 miles on it, and then promptly upgraded for a BMW650 XCountry – what a great bike – nimble off road, great on the freeway! I put 25,000 miles on the bike, and it's done anything and everything I've asked of it. Since then I traded in the XCountry for a G650 GS, and then a F650GS twin which I still have. I recently upgraded to a BMW F750GS that I love.  So I've been riding since 2010, and since I didn't start riding as a kid, I'm trying to make up for lost time and ride as much as I can! Donn has been a great riding instructor and partner, and he has given me the confidence to get on my bike and just ride it, on the road and off the road. When I'm not on my bike, I'm working with my torches, hammers and anvils – I'm an artist, working with forged copper – www.debyharvey.com, if you want to take a look. I show at 4 galleries around the U.S., have a couple of public pieces out there.
Well, that's me in a nutshell.