Seattle to Buenos Aries 2013 (Scroll down for links to the blog posts in chronological order)
50 years ago Keith Thye and his friend Dave Yaden dropped out of college and rode BMW motorcycles to Pucon Chile, the sister city of their home town, Lake Oswego Oregon. Their epic journey was chronicled in the book MotoRaid published in 2000. Click HERE to order a copy from Amazon.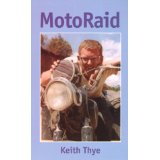 In 2013 Deby and I joined Keith and Dave as they reenacted their journey through Central and South America, this time on modern motorcycles, on better roads, without  camping in a canvas tent or getting thrown in jail.
In honor of their 1963 visit the residents of Pucon Chile gave Keith and Dave a hand carved wooden plaque. I took a picture of the plaque that hung on Keith's office wall for nearly half a century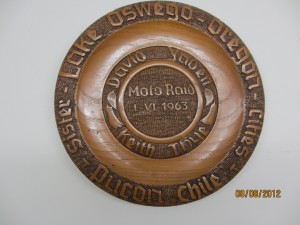 In commemoration of the trip I created stickers based on the original design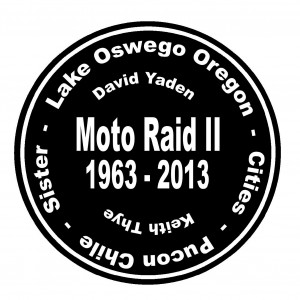 Joining us were veteran motorcycle travelers Michael Hansen and Jim Balz for a total of 6 riders. We met January 10, 2013 at the BMW dealer in San Diego California for our launch.
The route was  through Baja to LaPaz where we took the ferry to Mazatlan and rode through Mexico along the Pacific Coast. From Mexico we  explored Central America working our way to Panama where we will shipped our bikes to Columbia by air to get around the Darien Gap.
Side note: Evidently there have been a few people who have ridden motorcycles through the Darien Gap between Panama and Columbia. My favorite story is told in the book Obsessions Die Hard by Ed Culberson. I'm told Helge Pedersen also navigated the Darian Gap as told in his book 10 years on 2 Wheels. I haven't read his book (yet).
From Columbia we rode south through Ecuador, Peru, Bolivia and into Chile where we visited  Pucon, the sister city of Lake Oswego. From Pucon we rode east through Argentina to Buenos Aries where we arranged for the bikes, and us,  to be shipped home.
Click HERE for an overview map of our route
The following links are my Motoraid II Blog posts in chronological order.
The first section of posts documents just Deby and I riding from Seattle to San Diego in January (burrrrr!) to meet the Motoraid crew.
First Post of Motoraid II
T – 37 Days
T minus 35 Days
December is here
Planning for Disaster
T-minus 16 days
Leaving in a few days
On our way!
Cold, Rain, Wind, Hail, Fog
Happy New Year!
The Lost Coast and Avenue of the Giants
California Highway 1
Elephant Seals
Tomorrow Mexico
The following links are for riding through Mexico
Bahia de los Angeles
Watching Seahawks in Loreto
The LaPaz Ferry
A Nice Day Riding
Twisting the Day Away
Acapulco
The Road of Life
Dumb Stuff
Guatemala
Checking in
Lake Atitlan and Santiago
The Guatemala Cloud Forest
Central America Posts
El Salvador
Nicaragua
Nicaragua – Part II
Costa Rica
Costa Rica Part II
Watch for Cops! (Panama)
Chill'n in Panama
South America – Columbia
Jumping the Darian Gap
Tourists in Bogota
Bogota Part II
Adventure Riding in Columbia Part 1
Adventure Riding in Columbia
Equador
Peru
Into Peru!
The Flats of Peru
Peru – Chan Chan
Lima
High Adventure in Peru
All about Michael – Three Days in Hell
Machu Picchu
Machu Picchu Part 2
Machu Picchu – The Final Ascent
Deby's Birthday Ride
Peru to Chile to Argentina
Chile
Into Chile – the longest crossing yet
Pucon at last
Argentina
East to Argentina
"The Crash"
Last Stop: Buenos Aries
Motorcycles: It's a Wrap!