Oh yea, riding along the Oregon coast. I did this trip a few years ago in August, funny thing, I seem to remember the weather was not much better. The temperature when we left Seaside at 9:45 AM was 34 degrees F and it was raining. It rained almost all day and the temperature only reached into the 40's a couple of times. The weather forecast was for sun but it was cold and wet with occasional hail all day. Thanks to good gear we managed to stay relatively warm and dry.
Stats for the day:
If you want to see our track and see where we are tonight click on my Spotwalla Link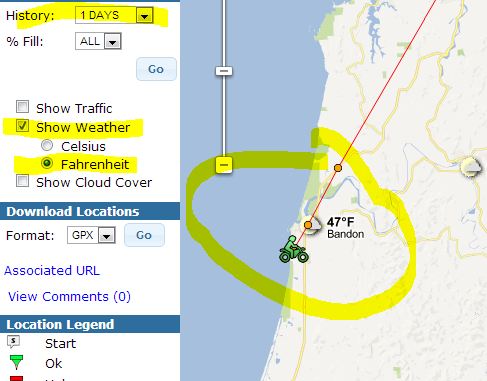 It is updated with our location every 6 minutes when it is on. You can also select "show weather" to see what we are riding through.
I did manage a few pictures today:
Starting out in the rain
We did manage to get a walk on the beach before sunset
Tomorrow we should make it into Northern California and the Redwoods.
Happy New Years and thanks for following,
Donn and Deby